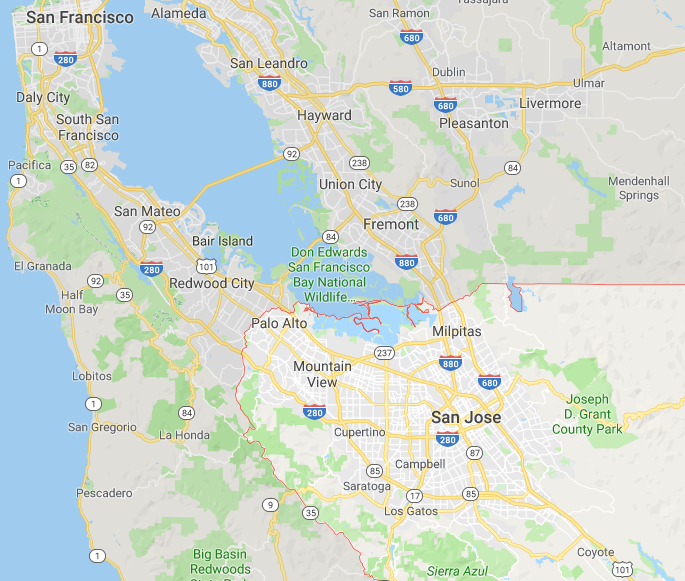 Milpitas is a mid-sized city with a fast-growing economy and population located within the coastal County of Santa Clara a little south of the Bay Area. Some of Milpitas' most prominent neighbors include Fremont and the great city of San Jose. With several major roadways passing within or near the city, Milpitas is by far one of the most connected communities in the County. It is also part of the technology-driven Silicon Valley and as such, it is and has been the base of operations for several giant corporations including the likes of FireEye, SonicWall, and Intersil among others. With Milpitas city being an employment hotspot, its population has skyrocketed to an estimated 80,000 residents and is expected to reach as high as 100,000 in the coming years.
Before the arrival of the Spanish colonialists to the coast of California, the area that forms today's Milpitas city was the ancestral territory of the Ohlone tribesmen, specifically the Tamyen linguistic subgroup. This group of Native Indians had inhabited the area around San Francisco Bay for many centuries and mainly depended on hunting and gathering for survival. Archaeological and historical evidence shows that the Ohlone were organized into villages in and around the current Milpitas area. More evidence reveals the existence of rich trade between the Ohlone and other neighboring native tribes.
Spanish expeditions in the area led to the establishment of numerous religious outposts in the southern region of California with Milpitas serving as a crossroads between two of the missions; Mission Santa Clara de Asis and Mission San José de Guadalupe in what are now the cities of Santa Clara and Fremont respectively. The Spanish administrators divided the vast land along the California coast into ranches made up of several thousand acres and issued them as grants to some of their people who had traveled with the expedition parties. Milpitas (or Rancho Milpitas as they called it back then) was granted to one José María Alviso, the original owner of the now popular Alviso Adobe which is currently under restoration en route to becoming an educational museum.
Instead of José María Alviso's son inheriting his father's land, it was acquired by American settlers who brought with them a lot of development and population growth between 1850 and the late 1880s. The village thrived as an agricultural and business hub and a renowned rest stop for travelers commuting between Oakland and San Jose.
Milpitas was hurriedly incorporated in 1954 in what later turned out to be a successful effort by the residents to prevent their precious city from being "swallowed up" by what was then a fast-growing city of San Jose. Since its inception, Milpitas has come a long way to being one of the most industrialized and technologically advanced cities in California.