Environmental Due Diligence
When developers make a commercial or developmental real estate transaction they can run into hidden environmental liabilities that sometimes cost millions of dollars. Anyone doing a major property transaction, including purchase, sale, lease or refinance, will want to manage risks and avoid liabilities by pursuing environmental due diligence. Environmental due diligence is a formal process for assessing real estate properties for potential environmental contamination, such as groundwater or soil contamination. One of the key tools used in this process is vapor intrusion testing of groundwater sources, soils and the air in basements and/or first floors of existing buildings to identify any potential toxins that could be harmful to inhabitants.
This is where Torrent Laboratory can aid you in your pursuit of environmental due diligence. We are experts at vapor intrusion testing and will work through the right process for you to get the testing done, evaluate your water, soil and/or air samples, and complete the testing on your time table and within your budget for the project. In the long run everyone benefits from environmental due diligence and developers are protected from much heartache, sickness and litigation.
Phase I Environmental Site Assessment
A Phase I Environmental Site Assessment (ESA) is a tool used to determine whether a property has been contaminated. This step uses a variety of historical records from local, state and federal records to assess if past uses or occupants of the property presented any environmental risks. This process is intended to reduce but not eliminate any recognized environmental conditions (REC) or historically recognized environmental conditions (HREC). However, most banks require environmental due diligence to be completed before any loans are issued.
Phase II Environmental Site Assessment
If your Phase I ESA reveals RECs or HRECs do not despair. Environmental due diligence most often requires and certainly recommends a Phase II Environmental Site Evaluation. This is where Torrent Laboratory can help you test your soil, groundwater and even air inside existing buildings for the presence of contaminants. If you are preparing to conduct a Phase II (ESA), do not hesitate to connect with us at Torrent Laboratory so we can be part of your environmental team.
Vapor Intrusion Testing
Soils and groundwater sources that have been contaminated by chemicals and toxins release these toxins as gas plumes (mostly volatile organic compounds or VOCs) into the surrounding soil, ground water and air.  These gases or vapors can intrude into buildings that are built in or above contaminated soils and cause health problems for the occupants.  This means your home or business could be experiencing vapor intrusion of possibly volatile chemicals.  Vapor Intrusion testing helps businesses, developers, employers, homeowners and rental owners understand whether there is the potential for indoor air contamination or the presence of indoor air contamination.  Results from testing help everyone involved understand how contamination may impact health, and how to protect people, the environment and resources.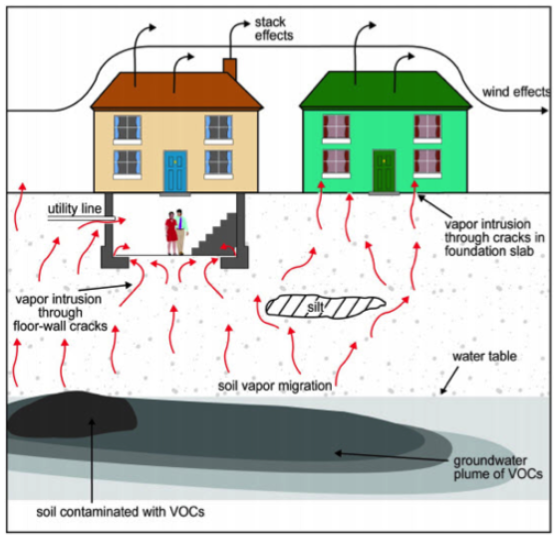 THIS FIGURE DEPICTS THE MIGRATION OF VAPORS IN SOIL GAS FROM CONTAMINATED SOIL AND GROUNDWATER INTO BUILDINGS. VAPORS IN SOIL GAS ARE SHOWN TO ENTER BUILDINGS THROUGH CRACKS IN THE FOUNDATION AND OPENINGS FOR UTILITY LINES. ATMOSPHERIC CONDITIONS AND BUILDING VENTILATION ARE SHOWN TO INFLUENCE SOIL GAS INTRUSION (FIGURE & CAPTION SOURCE: US EPA)
Torrent Lab Vapor Intrusion Testing Processes
Torrent Laboratories works with you to arrange the best vapor intrusion sampling in order to meet your needs. Most processes begin with vapor intrusion testing to determine whether gases are entering buildings, water sources or basements. If a problem is discovered, soil testing will discover how big a problem exists. Vapor intrusion collection canisters and Soil test collection kits can be provided for you along with clear instructions on collection and timely return to our labs. We provide several options for turn around times including the fastest in the industry. Torrent Laboratory has the highest certifications for these tests from several agencies including the Department of Defense and CA ELAP.
Torrent Laboratory uses approved industry methods to test for toxic chemical vapors in samples provided to us. We have two types of testing available, the regular TO-15 test is great for most needs. However, the low level testing TO-15 SIM technique is also available for residential vapor intrusion and commercial environmental screening levels.
Sources:
https://restorical.com/what-is-environmental-due-diligence-and-why-is-it-important-2/
https://www.pmenv.com/sites/default/files/the_basics_of_environmental_due_diligence.pdf