5 Reasons Indoor Air Quality Monitoring Has Become Imperative Since COVID-19
An Overview of Indoor Air Quality Testing
Air quality testing and monitoring are rapidly evolving, spurred on by increasing environmental awareness and accountability for meeting air quality standards. Since the outbreak of COVID-19 the awareness of the importance of indoor air quality measurement has skyrocketed. Environmental testing laboratories have made important commitments to air testing and analysis. The most common causes of indoor air pollution that an air testing company in the US is asked to test for are:
Allergens

Asbestos

Formaldehyde and Acrolein

Isocyanates

Lead

Mercury

Mold and Mildew

Particular Matter

Radon
All of these are known to be responsible for serious health issues in people and if discovered must be immediately monitored and mitigated. 
5 Reasons Indoor Air Quality Monitoring has become imperative since COVID-19
1. Particulate Testing is Ineffective
Since the start of the COVID-19 pandemic many businesses have been thrust into having a much greater concern for indoor air quality measurement. This is because the health of their employees, clients/customers, and even themselves are being put into jeopardy by the virus. Although a lot of effort and attention has been given to new technologies like disinfection filtration, bipolar ionization and ultraviolet light, the truth is that the methods that have proven to be most effective with the virus are the same fundamental tools, applied with greater rigor and purpose.
Because of the miniscule size of the coronavirus (0.1 micron), air testing for the COVID-19 virus particles themselves is not effective. The best particulate matter sensors available commercially can only reliably detect particles down to 0.3 microns. Besides the virus being too small to reliably identify, the virus can also attach itself to larger aerosol particles measuring 0.3 -10 microns, or even to larger droplets of 10-20 microns.
These two possibilities can lead to false positive results because the smallest detected particles may not be the virus, or to false negative results because the larger particles detected and assumed to not be the virus, may be harboring the virus undetected. These are not effective testing results.
2. Air Flow Quality is Essential
One of the most common causes of indoor air pollution is poor air flow in buildings. If we want purer indoor air we must return to a basic fundamental, something that has been shown to be essential in reaching and maintaining high indoor air quality, we must boost the air flow quality in our buildings. This means that many businesses, condominium and apartment complexes must test the performance of their HVAC systems, track temperature and humidity in these units and work to achieve greater efficiency of air transfer between air pumped in and air flowing out from their HVAC systems.
Because of the COVID-19 pandemic the air flow input and output target levels are being pushed to capacity or beyond, resulting in the need for more regular cleaning and maintenance of units or even replacement or installation of additional units to meet targeted air transfer volumes. Monitoring the air flow as well as the air quality in your buildings is essential.
3. Tenants/Employees Need to Know Your Monitoring Efforts
This pandemic has changed the way most people think about the air they breathe and ways to protect ourselves from airborne toxins, pathogens and particulates. In order to build trust with your tenants/employees in their home and work environments it is important to keep them informed of all of your indoor air quality measurement data. Showing tenants/employees the measurable effects of your efforts to remove or reduce the causes of indoor air pollution that are at the heart of their anxiety will ease their minds as they return to home/work. Offering clear visuals representing the monitoring efforts and key indicator numbers of the healthiness of air quality will go a long way to easing people's concerns and answering their questions.
4. Consistent Monitoring Enables Quick Corrections
The next step in the process of building trust is to respond to the results of your efforts for consistent indoor air quality measurement with clear corrective measures. Consistently show your people the measures you have implemented in order to correct for any of the indicators and measurements that show reduced air quality. Use the data you are collecting and sharing with your tenants/employees to be transparent about all of the efforts being made to correct problems and improve long term air quality.
An example of this is: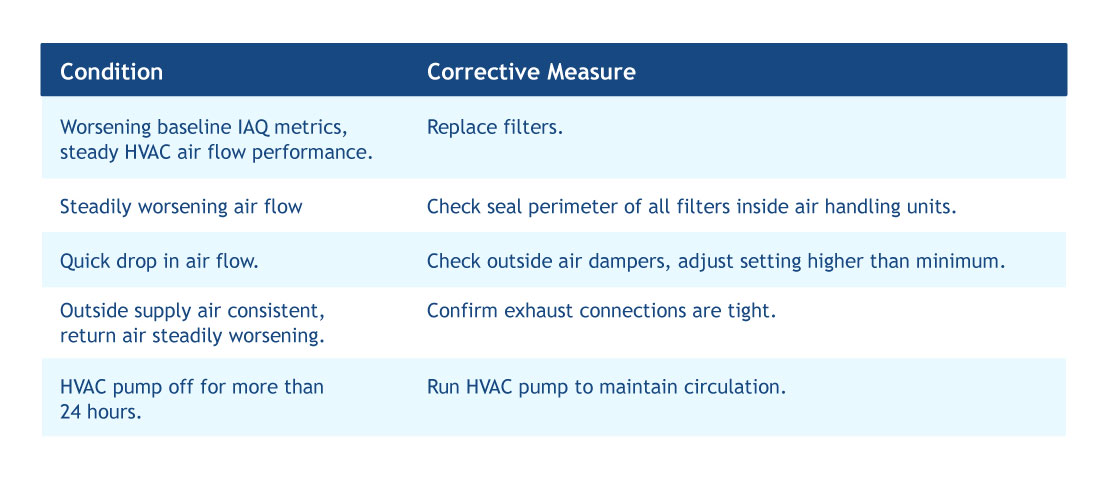 This kind of response will show that your monitoring of potential causes of indoor air pollution is also resulting in corresponding actions to ensure the safety of those working and living in your facility.
5. Monitoring Allows Businesses to Manage Energy Use
As you might have already noticed the changes that will likely be implemented to create a safe environment for your tenants/employees are not without costs. There will be added expenditures in time, energy consumption, monitoring costs, repair, maintenance and even new equipment.
Because of issues of safety and sustainability it will be vitally important to manage these expenditures effectively and efficiently. Since many businesses have implemented sustainability goals as part of their key performance indicators, the consistent monitoring of air quality will also help you manage your energy use to help you remain within your goals while necessarily running your HVAC systems more aggressively to maintain health.
Although this may sound like wishful thinking there are ways to get this done. The most obvious and most effective way to accomplish these goals is to digitize all of your regular preventative maintenance in order to maintain the highest level of efficiency within your HVAC system. Every opportunity to modernize your equipment, analyze your system data for maximum efficiency and catch up on delayed maintenance will increase your efficiency, cut long term costs, improve indoor air quality maintenance, and keep you in line with your sustainability performance goals.
What is the Solution?
Consistent, continuous, data-driven indoor air quality monitoring is the solution! It is very important to do a thorough air quality assessment as a baseline for your business in order to know what can be done, what must be done and what goals can be set for your property.
Once a baseline has been set, you must put into place a clear blueprint for ridding your property of all causes of indoor air pollution. Next, contract for an indoor air quality monitoring system to be installed that will enable you to meet all of the important reasons laid out for monitoring which you have just read. Then you must communicate precisely what your air quality is and what specific efforts are being made to improve the air quality for all your employees/tenants.
Conclusion
Torrent Laboratory has continuously invested in new methods, technologies and advanced procedures for air quality testing and monitoring. Torrent supplies data for a range of air testing methods including NIOSH, OSHA, ASTM, and EPA Air Compendium Methods (TO, CO, IO). We have invested in the most technically advanced air quality testing laboratory equipment in order to provide highly accurate, fast and reliable results. But we will not stop there. We will help you with any and all ongoing needs for indoor air quality monitoring as well.